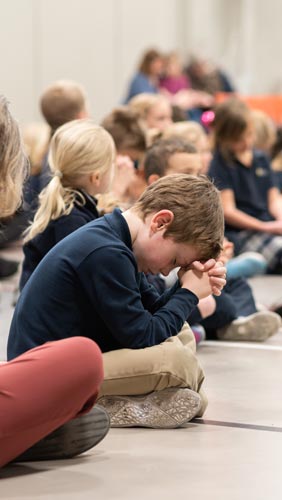 Give your Child's Education
Christian Context
In an era when many families are asking essential questions about their children's education, Huron Christian School provides an alternative Christian education rooted in a 60-year legacy committed to educational excellence.
Does the foundational worldview of your children's education matter? We answer with an unequivocal yes, and it is our goal to educate and equip your children in a context that showcases Christ's light and love. For decades, our graduates have been using their education and skills to build their communities and to serve the world.

If you're interested in whether Huron Christian School is a fit for your family, we urge you to contact us to schedule a school visit and talk with our staff. Find out why we value a Christ-centred education!
Here's what they said about HCS...
We knew choosing Christ-centered education for our children would be an investment for our children, but as a parent, there has been nothing quite so impactful as standing with staff, students and the school community as we cover the school in prayer. We feel blessed to be part of a vibrant community where our children are valued, and upheld as children of God regardless of educational ability, and we couldn't be more thankful!
HCS has been a part of my life for a LONG time. I can truly say that "I came to teach, but I've stayed to learn." As a teacher I have been blessed beyond measure to watch my students grow and now teach their children. Former students have become my friends and colleagues. As a parent I have confidently trusted that my children were taught of God's love and faithfulness. When I moved here, I had no idea how firmly God would plant me at HCS. I am thankful for the strong community. I am humbled that God has placed me to serve here and pray for his continued guidance for HCS.
HCS is a place where you smile when you walk past someone in the hall and you know people by name. At HCS, you get to build relationships with people who share the same gift of God's love with you. In my class, I've gotten to go on many adventures and there seems to always be something to look forward to. My classroom gets to be both a peaceful and diligent learning environment but also a place of laughter, fun, and friendly competition. At HCS we get to learn in a community… a community of children of God using their gifts and talents to glorify their Savior.